Higson Dental Group U15AA Storm
Homepage
---
Higson Dental U15AA Go 1-1 On Weekend
Nov 9
Saturday: Storm 7 - Oil Barons 5 Sunday: Oil Barons 6 - Storm 4
After dropping 2 games in Fort McMurray the previous weekend, the Storm were eager to turn things around on home ice. After being down 2-1 after 20 minutes on Saturday, the Storm put together a huge 5-goal outburst in the second period to glide to a 7-5 victory. Head Coach, Kyle Weegar, said it took some time for the team to get comfortable. "I think it was a combination of the guys finding their groove, it's still early in the season and a lot of these guys are new to AA hockey. We realized we can play with Fort McMurray, and we had more bodies than last weekend and that helped us out." First year U15 player Jake Hildebrand-Hobbs led the way with a hat trick (plus an assist), while Ben Hilliar chipped in with 2 goals. Singles went to Jace Rycroft and Shea Fitzgerald. Goaltender Hudson Perry turned aside 35 shots for the win. Weegar said that Hildebrand-Hobbs was an impact player. "That first goal he scored was a backhand short-side off the crossbar, it was a highlight reel goal that, I think, gave him a lot of confidence."
Slapshots
Assists on Saturday were credited to Shea Fitzgerald (2), Austin Winia, Hildebrand-Hobbs, Jay Timanson, Josh Galla, and Kaleb Jacobson.
Sunday was a bit of a different story, as the Oil Barons pulled out to a 4-1 lead after the first and a 6-2 lead after 40 minutes. Scoring for the Storm were Ben Hilliar and Greg Bos. After the 6th Oil Baron goal, Weegar called a time out. "We weren't taking care of our own zone, and we threw our goaltender Harrison (Bachinsky) to the wolves a bit. Our team wasn't clicking, we pulled Harrison, and called a time out. We told our bench that this wasn't on our goaltender, and it shook up the bench a bit." The Storm popped 2 goals in the third to make it a closer game with Austin Winia, and Raiden Perkins each scoring. "After our time out, we outshot them and outscored them, so it was another learning opportunity for the players to see that we are never out of the game", said Weegar.
Slapshots
Assists on Sunday were credited to Tavis Kramer (3), Kade Budgell (2), Jay Timanson, Ben Hilliar, and Josh Galla.
Coach Weegar was complimentary of returning AA forward Ben Hilliar, who did not make the trip to Fort McMurray last weekend. "It's definitely huge having Ben on the ice, just his size, his speed and his presence is a big factor for us."
The team has a few weeks off until they have a home and home weekend against the Peace River Sabres on Nov 28 & 29.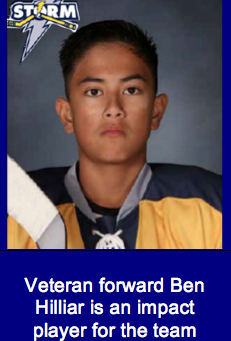 ---
Storm Open Season on the Road
Nov 1/20
Saturday: Oil Barons 5 - Storm 1 Sunday: Oil Barons 6 - Storm 2
The results may not show up in the win column but you won't hear Head Coach, Kyle Weegar complaining. 'The effort was there, the boys worked their butts off, they are good character kids, and we are getting better" said Weegar in assessing the season-opening weekend against a tough Oil Baron team in Fort McMurray. Ryatt Kuz scored the lone Storm goal on Saturday with the helper going to Shea Fitzgerald. Goaltender Hudson Perry got the start for the club, making 41 saves. "We ran out of gas a bit", said Weegar, "They are a big, fast team. We played well, it was more of a character weekend for us."
Weegar felt Sunday's game could have easily seen a different result but the breaks did not go the visitors way. "One goal hit the back stanchion on a dump in, bounced back over the net, and hit (goalie Harrison) Buchinsky in the back and rolled in. We couldn't catch those breaks; we hit some posts and missed some open nets." Tavis Kramer scored a power play goal in the first, with the assists going to Ryatt Kuz and Josh Galla. In the third, Jake Hildebrand-Hobbs found the back of the net, assisted by Kaleb Jacobsen. Bachinsky was busy in the net, making 50 saves. Weegar thought his team had a better performance on Sunday, despite the score. "The effort was there, we had a ton of power play chances, their goalie stifled us. It easily could have been 5-4 for us. In the third period we had more traffic to the net that produced more chances." Injuries, suspension and sickness resulted in the Storm playing short-handed. "We had a really short bench", said Weegar, "We had two forwards playing defense, and had 4 -D in total. But the boys played really well".
There are areas that the coach would like to clean up, as the Oil Barons scored in the last minute in 4 of the 6 periods. "We talked about time management when you realize there is 30 seconds left, and you tend to mail it in a little bit. We talked a lot about playing to the whistle".
Overall, the coaching staff was pleased with the effort and had praise for several players. "Both goalies played very, very well this weekend, (Konnor) Bissell played defense for us all weekend and did very well. Kuz popped a couple of points and Hildebrand-Hobbs was probably our most effective forward, skated like the wind and played very well."
The Storm get another shot at the Oil Barons next weekend, Nov 7 & 8, this time at home. "It was a good character weekend, the boys learned a lot", said Weegar. "With a full roster next weekend, we'll work on our power play this week in practice, I think we'll see a different result next weekend."
---
---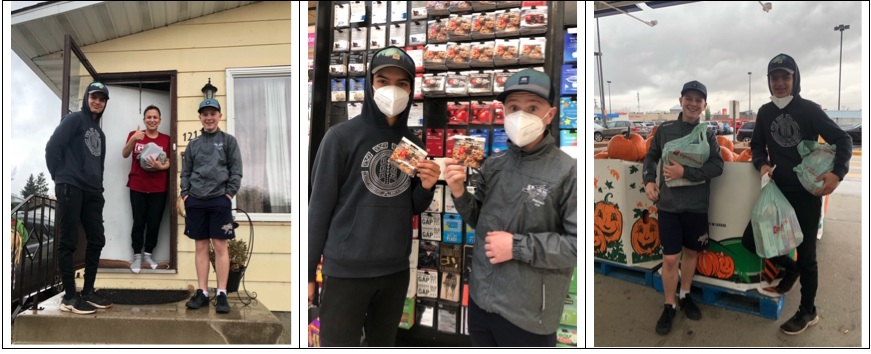 Players helped 2 familes in need over Thanksgiving with snacks, gift cards, and a turkey!
___________________________________________________________________________________________________________________________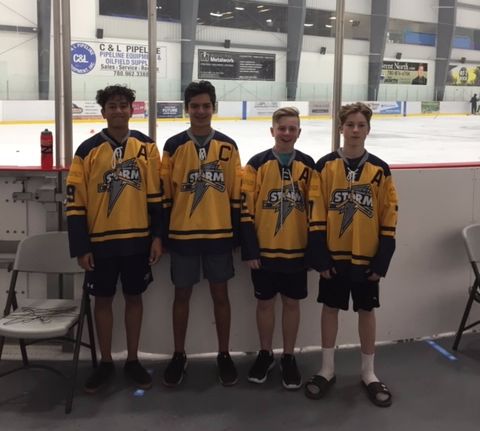 2020/2021 Higson Dental U15AA Leadership Group(L to R) Ben Hilliar, Caleb Jacobsen, Josh Galla, Anson Hingley