Kinetic Energies Inc U16AA Storm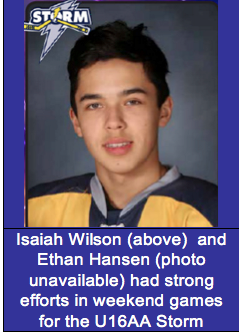 Tough Losses for U16AA Storm
Nov 9/20
Saturday: Warriors 6 - Storm 1
Sunday: Warriors 11 - Storm 3
After over two months of practicing, the U16AA Storm finally played some games over the weekend. And while the results may not necessarily be what the team was looking for, Head Coach Mike Brown was glad for the game action. "Overall it was a tough result, but it was fun being able to play some games and nice to be able to see what our team looks like and have a plan moving forward". On Saturday, Nathan Sanregret scored the lone Storm goal, assisted by Brady Parsons. Goaltender Logan Sawatzky turned away 44 shots in the game. Coach Brown highlighted the effort by Isaiah Wilson. "Isaiah worked hard and played forward, and helped out D in different spots".
On Sunday, Hunter White, Kyle Lefebvre and Brady Parsons scored for the Storm, with assists going to Brayden Bissell, Ryan St. Germaine, and Hunter White. Goaltender Shannon Sexton made 30 saves. Brown highlighted the effort of Ethan Hansen, "Ethan played well on defense, he battled and worked hard for us." Brown noted that there were instances in both games where his club carried the play. "We had stretches in both games when we were good, and stretches when we tripped and fell. When we were playing well, we were strong and played our brand of hockey, we tied periods and drove the play for stretches. We have to find a consistent effort and work level. We had a couple of good second periods. We just need to spread that 20 minutes over a full 60". There are positives in finally getting some game action and assessing the team. "Being able to finally see some games helps to see where we executed well and what needs some improvement, so we will take a little bit from these games and highlight areas of growth for next weekend against the same squad",, said Brown.
The Storm travel to Strathcona County for games Nov 14 & 15.