Meet Ryan Allen
---
---
After 4 years playing experience in the AJHL with the Fort McMurray Oil Barons, and 5 more with Brock University (U-Sports), Ryan Allen moved on from playing to coaching 9 years ago. From Assistant Coach, and Assistant General Manager with the Oil Barons, Drayton Valley Thunder, to Head Coach with OHA, and numerous Alberta Cup regional teams/roles, Allen left his Elite 15 Head Coaching position with OHA to join GPAC as Technical Director (TD) last season. We sat down with Ryan (socially distanced, of course) to chat about a range of topics; from what brought him to Grande Prairie, to what his role entails, to developing young hockey players and coaches, to scouting and recruitment.
How did you come to be TD of GPAC?
I saw the job posting and reached out to a few hockey people like Fran Gow and Rick Nordstrom to get more information. I discussed it with my family, decided to submit a resume, interviewed and accepted the offer. It turned out to be a great decision.
What exactly does a TD do?
A big part of my role is to be out on the ice with the GPAC teams and coaches. I am with the teams (observing or skating) for 12 practices a week, not including the U15AAA team myself and Paul Therrien coach. I have an overall responsibility for the teams within GPAC. It involves coaching the coaches, mentorship, all hockey operations - staffing, scheduling, defining coach standards, developing coaches. Professional development, video software, building a playbook. Attending board meetings. Recruitment, budgets, promoting our players. For example, I spoke to a scout from the Portland Winterhawks last night regarding some of our players. I foster our relationship with the Jr. A Storm, as well as other Junior programs in Western Canada. There's certainly more, but the best way to put it is if there are questions about our program, I'm usually the person to ask.
What have you been able to implement in the past approx. 15 months?
I will answer this question in terms of we not me, as our program is only as good as the strength of the volunteers and our coaches. We've been able to implement a lot of positives to make our program better; adding trainers/therapists for every team, Jr. A Storm inviting players to their practices (before Covid). Coaches have created and refined their seasonal plans. We've had Fran Gow and Barry Medori from Hockey Alberta up numerous times. We've developed a coaches package to help them answer questions, as well as a manager's manual for team managers. We hired Kurtis Mucha as our goalie coach. We've implemented 3 practices per week for all 7 teams, which is huge for on-ice development. We did a presentation to all athletes to emphasize that our main goal is developing people first before players. We were able to have all coaches in place by June 1 - so we could have time for the coaches to mesh together, start working on seasonal plans, start their recruiting through the summer. For tryouts, we had a set of outside evaluators (8-12) for both U16 and U18. We had simple, consistent evaluation forms across the board tying into the Hockey Alberta model. I feel this established a process that allows our coaches to feel comfortable and confident in selecting their teams.
What is left on your to-do list?
That is always ongoing. We want to get out a recruitment video to our draw zones and a GPAC playbook, which will essentially have everything in there in terms of the technical/tactical piece, and keep the way we teach/play with our players consistent with all 7 teams. We are working towards more professional development for our coaches, more seminars and presentations. We have implemented INSTAT, a video scouting program, for our 3 AAA teams and are trying to find ways to have all 7 teams involved next year, as it is a fantastic tool. We want to provide contact with our current U11 and U13 teams to give them a snapshot of what our GPAC program looks like, maybe "a day in the life of one of our athletes" to give them more education/information. I want to get into the communities in our zone to promote GPAC face-to-face, and potentially some spring hockey down the road.
Who would you consider a mentor, or who are some of the people who have had an impact on your career in hockey?
I have a long list, but I'll try to narrow it down. I've been blessed to have been surrounded by some very good people. Not just coaches - but volunteers, therapists and others that are involved in the game. Definitely my Dad, who has passed away. He coached me until peewee, but most of my values and beliefs are from him and the way he coached me growing up. I'm his biggest fan and always will be. There's Sean Beissel, from OHA. Fran Gow - everybody knows Fran in the hockey world and especially here in Grande Prairie. Gord Thibodeau, who has coached Jr A hockey for many years. And Tom Keca , from Fort McMurray coached me as a player, and then I was able to Coach with him afterwards with the Oil Barons.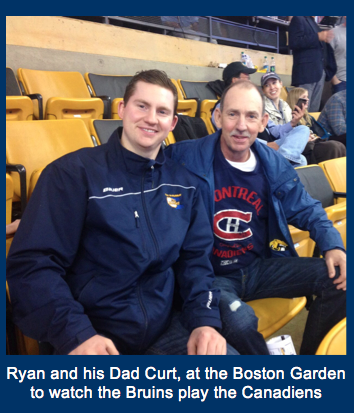 Is there direction you give to GPAC coaches? How is it implemented or executed?
It's always ongoing. We hold coaches meetings every three or four weeks. Overall collaboration - doing diagrams, demonstrating drills and generally sharing ideas. I attend their practices, suggesting new drills and lots of one-one-one time. Sitting around the coach room before and after practice bouncing around ideas is a good way to improve as a coach.
With regards to GPAC, what have you seen so far that leaves you impressed? What areas of growth or improvement do you see?
I'm impressed with the foundation. Grande Prairie has always been a good hockey town with good quality players. It has a strong volunteer base in the community. Moving forward, I would like to have all people in our program believing in what we do and pulling in the same direction. This will come with a culture change and as time goes by. This won't be an overnight process, but something I would like to see in the future.
How would you say the GPAC program and hockey players compare to other programs?
I would say GPAC would rank in the top third in the province. First off, when it comes to the quality of coaches, we are really deep in experience at the Head Coach position, which translates to better development for the players. At the assistant coach position we have some experience and some young guys who are really eager, want to learn and want to get better. In terms of the development for the coaches, it's really nice for all of them to be exposed to the workings of the other 6 teams and how other coaches do things. It adds to their development as hockey coaches. Another example is I think our strength and conditioning facility at Tags gym is one of the better ones in the province. I think overall there are things to improve on, but right now we are a model program, as we are one of the first associations to hire a TD and follow the Hockey Alberta Development model. I know that some other organizations are looking at us to model what they are doing.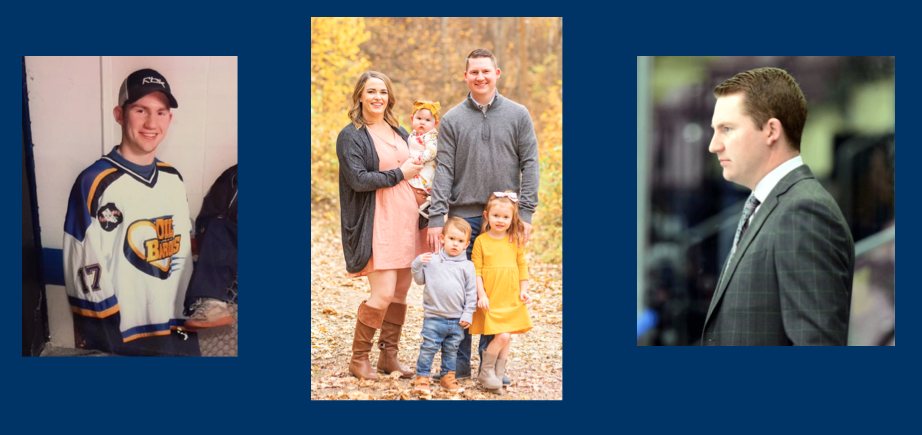 How have you managed to balance being a TD and Head Coach in an elite hockey program?
Thanks to my wife, Courtney, for balancing our children and our home. She understands and supports my passion and desire for the game, to give back to athletes and players. I feel that with me in the Head Coach role now, the bond is tighter with the Coaches. I'm connecting more than just the hockey piece with them now. Being shoulder-to-shoulder with these guys keeps me up-to-date with the game, as the game is evolving so fast. When I attend practices, I go as a coach not as a TD. It's been really beneficial and I feel it has gone a long way in my relationship with the Coaches. Hopefully, they see me as one of them.
Speaking of your family, you and your wife, Courtney, have 3 children (Finley age 4, Mackinnon, 2 1/2, and Sawyer, 8 months). With hockey being an all-encompassing job / passion, how do you balance that with family life?
A typical schedule for me - 7:30 to 11:30 in the office. From 11:30 to 4:00, I will go home and spend time with my family. Then back to the rinks from about 4:00 to 10:00 each night. As I mentioned previously, I do that with the other GPAC teams for 12 practices a week for a 3-week stretch in the month. In the 4th week, I focus on my own U15AAA team. Obviously, weekends are at the rink or on the bus with the U15AAA's, so again, Courtney is a huge part in supporting what I do.
Can you speak more about GPAC players being recruited?
One of the biggest things with hockey is recruitment. It's a big part of my role. I'm fortunate enough to know a lot of people in the hockey world. A lot of times, players won't even know they're being looked at, but I can guarantee the phone is always ringing. If it's not me, then our coaches are getting called. We are trying to bring kids here to our program, and move them along in their careers. Just because a player doesn't get talked to face-to-face doesn't mean they're not being looked at.
Besides asking about hockey skills, what do Coaches, Managers and Scouts ask you when they call about a player?
Character, character, character. The big questions is "How's his character?" Coaches or scouts have usually seen him play, seen his stats, but it's the character they are calling about. That is essentially the soul purpose, to me, why it is we are trying to develop good people first and hockey players second. You see more of that now in hockey. You can have all the skill in the world, but if you are missing that character piece (not a good teammate, selfish, not coachable), then Coaches are passing you over in favor of a player who may not be quite as talented, but is a great kid. Even in GPAC, we would be doing ourselves a disservice if we weren't calling previous coaches, doing background checks, going on social media to find out what kind of kid we are looking at for our program.
What advice would you have for parents, who support their kids and go through the same highs and lows as their son or daughter?
I know it sounds cliché, but we have to remember it is just a game, and it is supposed to be fun. It is really all about developing people first and hockey players second. I know that hockey is important - it is our National sport - but if it's fun and the kids are engaged and it's a positive experience - the life skills you learn are preparing your kids for the real world. There are so many life lessons that the game can teach your children, to help them prepare for success as adults.
Last question: What advice would you give to players who want to play at the highest possible level or have their sights on playing professionally?
Everything matters. Workouts, school, making curfew, community involvement, family, volunteering - everything. The hockey piece is such a small thing on the big scale. You need to do things right all the time. That's why the pyramid is so steep and the percentage of players that make it is so small. Because it requires that exact mantra - everything matters, and it has to be done right all of the time. The minute you take an hour off or a day off, somebody else is getting better doing the right things. If you're a hockey player, making the NHL should be your goal. Having said that, there are so many opportunities out there to play junior, semi-professional, to play collegiate hockey, across Canada, the US and even the world. It just requires that you do things right all the time. In the big picture, if you can play hockey and get an education while you're doing it - what a better way to go about it?