Meet Kurtis Mucha
---
---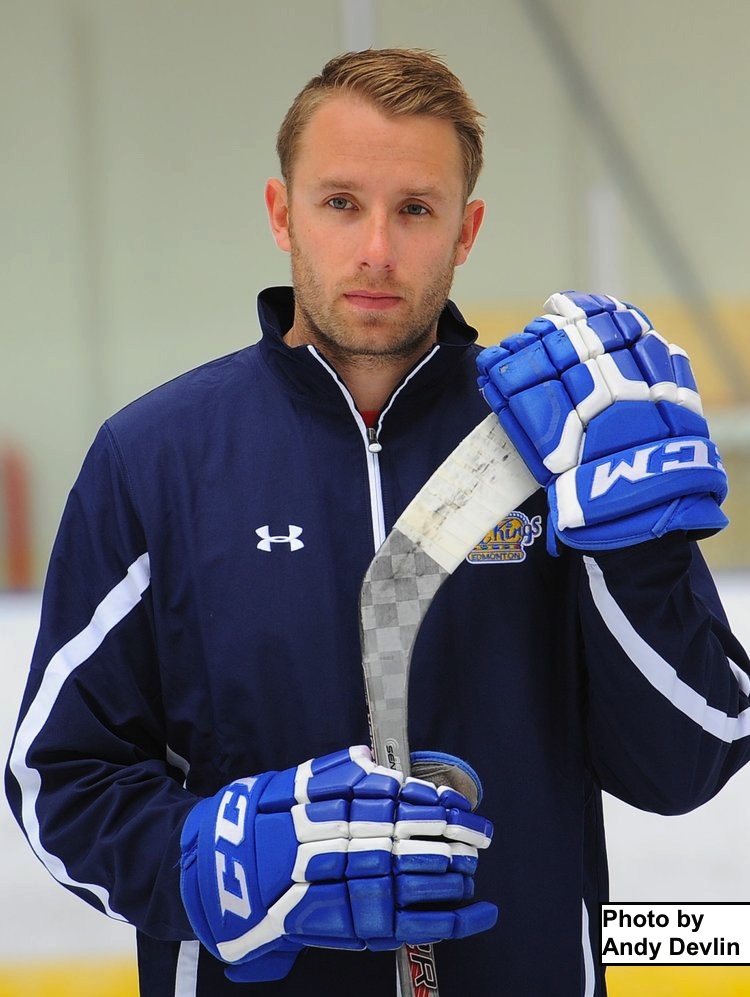 It's an impressive hockey resume; WHL draft pick, 2 U-Sports National Championships, 4 Canada West Titles, U-Sports Goaltender of the year, All-Canadian All Star, and 2-time Canada-West All Star. Kurtis Mucha, the new GPAC goaltending coach, has spent a considerable amount of his life in the blue paint, and is now passing on his knowledge and experience to the 14 goalies in the GPAC program.
Mucha's ascension to Tier 1 Junior began in Bantam. "In my second-year Bantam, we had a really good team, the Sherwood Park Flyers, and I was fortunate to be drafted in the second round by Portland. I played there when I was 16 until my 20 year-old year when I was traded to the Kamloops Blazers". After completing his junior career, Mucha took advantage of the WHL scholarship program to commit to the University of Alberta Golden Bears hockey program. There, he won 4 Canada-West titles and 2 National Championships, and earned a degree in Environmental Science
While playing for the Bears, Mucha suited up for the Oilers as emergency back-up goalie. "My coach called me just as I was getting out of class, and said that (Ilya) Bryzgalov had been traded and they didn't have time to call up a goalie from the AHL, so I found myself on the bench for a game (backing up Ben Scrivens), which was a really cool opportunity. The guys were really good to me, I knew some of them from my time in the WHL; Eberle and Nugent-Hopkins, they were very welcoming and it was a surreal experience."
After playing 5 years with the Golden Bears, Mucha had planned to play professionally in Poland, where his family heritage lies. But a call from Dustin Schwartz changed that. Schwartz had been hired by the Edmonton Oilers, leaving an opportunity for Mucha to step into coaching full-time with the WHL Oil Kings as well as other junior teams. "The chance to jump into high-level coaching was just too good to pass up", said Mucha.
Since then, Mucha has spent his time as goalie coach with various minor teams, hockey academies and Junior teams. Currently, Mucha balances his time mentoring netminders with the Edmonton Oil Kings, Grant MacEwan Griffins, Sherwood Park Crusaders and various Sherwood Park Kings Teams, along with working full time at the Vimy Ridge Hockey Academy. He now can add GPAC Goalie Coach to his resume.
Having just been here in Grande Prairie this past week to work with the goalies, Mucha notes that even though COVID has really changed how society interacts, he feels that it has provided an opportunity to chat and teach through Zoom and other video platforms when on-ice teaching is not always available. "I had not done any video conferencing until last March, but now I see it as a way of connecting with athletes and goalies on a regular basis. I work with goalies who are playing college, Div 1 in the States and now it's easier to connect with them. I've already had one zoom call with the GPAC goalies before I came up this week, and it went really well. It's a way to continue the development when I'm not in town."
U15AA Assistant Coach Kyle Jahraus, who played in the WHL for the Seattle Thunderbirds, will also be working with GPAC goalies to maintain continuity in goalie development throughout the season.
Most involved in the game know how small the hockey world is, and the goalie world may be even smaller. Mucha says he was aware of GPAC goalies as part of his role with the Oil Kings, where junior teams are always looking for the next goalie recruit. Mucha says part of his job is knowing the background of elite minor hockey goalies, as well as seeing them play. "There are some great goalies in GPAC right now and I'm not going to come in and overhaul their game. I just want to work with them on what they already have, build off of their foundation and make tweaks if necessary."
Mucha starts with a simple evaluation of the goaltenders. While many hockey fans may look at statistical metrics such as save percentage and goals against average, Mucha looks at 3 main elements. One is skating and movement, "Can a goalie move efficiently though his crease, and through his post-save recoveries. In fact when I was on the ice this past week, we did an hour of socially-distanced skating with no pucks or shots at all". Secondly, he looks at positioning, "being at the right angle, being aggressive, challenging shooters, managing your depth, and always being square to the shooter." Thirdly, Mucha says tracking the puck is paramount. "The goalies that go the furthest and play at the highest levels are all very good at tracking pucks. So that's what we'll be working on in the weeks and months to come."
GPAC Technical Director Ryan Allen feels Mucha will play a large role in the development of young netminders. "You know Kurtis, in my opinion, has the experience and skills to be an NHL goalie coach at some point in his career. You look at what he's done with the goalies he's worked with and it's quite remarkable. Through his role with the Oil Kings I know he works closely with (Oiler goalie coach) Dustin Schwartz. We are very pleased to have such an established coach developing our goalies. Not only did the program get a great coach, but a great person and that's the backbone of our program."
Working with so many teams during the hockey season requires a work/family balance. Mucha, credits wife Tanya, and extended family with helping out with with their 2 and-a-half year-old son, Tuuka (yup! Tuuka Mucha !!). Tanya is due with their second child this January, "around the junior hockey-trade deadline", laughs Kurtis. "During the hockey season it can be challenging, but in the spring and summer, other than my goaltending school, we get a chance to have a lot more family time."
Like most coaches, Mucha aspires to move up the ranks in. "I do have aspirations to move up, and earn the opportunity to have discussions to coach at the next level"