BIG DAY FOR GPAC/PCFAC TEAMS
---
---

---
It was a big day for Grande Peace Athletic Club and Peace Country Female Athletic Club teams Saturday in the Coca-Cola Centre, but no one had a bigger day than Peaceland Directional Drilling Storm player Mason Kyllo.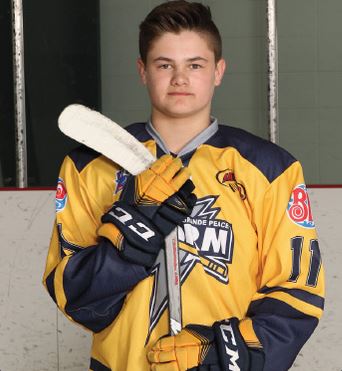 It was the first GPAC/PCFAC Hockey Day and may be the only time a player collects six points at what will likely be an annual event.
Kyllo (photo right) had a goal and five assists while helping Peaceland to a 10-6 win over the Whitecourt Wolverines in a game that saw 10 different PDD players score goals.
Liam Morrow, Aiden Brown, Denon Bamber, Jayden Gordey, Ben Schmidt, Alex Lopez, Tyler Buchberger, Colton Burke and Tuff Dreger also whiffed the wafer into the webbing while Tyler Burwash and Own Taylor combined to make 20 saves.
The big win Saturday made up for a 3-1 Peaceland loss at the hands of the Peace River Sabres on in the home of 12 Foot Davis. Buchberger go the lone GP goal and Taylor made 32 saves in that game.
Peaceland now sits in second place in the Northern Alberta Midget AA Hockey League with 11 points on five wins and a tie.
GPAC's Ernie's Sports Experts Storm continue to impress in the Alberta Midget Hockey League.
They won 4-3 over the Lethbridge Hurricanes on Hockey Day and then followed it up with a 7-1 win over Edmonton CAC on Sunday.
Hudson Foley had two goals and Dayne Tews and Connor Klassen singles on Saturday and McCoy Bidwell made 28 saves while on Sunday Nolan Flint, Devin Aubin, Landon Hedges, Jayden Watson, Kaden Reinders, Codie Saunders and Ty Toews scored and Terris Lappenbush turned aside 31 shots.
ESE sits in second in the AMHL with 14 points on seven wins and just losses - four back on Dodge Division leading St. Albert Raiders.
The Boston Pizza Storm managed a point in a pair of weekend games against the Lloydminster Bobcats.
Saturday, at Hockey Day, the Bobcats were 3-1 winners while Sunday the teams tied 1-1.
Damien Switzer got the GP goal on Saturday and Connor Stojan made 30 saves while Sunday Brody West got the goal and Tye Georgeson stopped 27.
BP is in 10th place in the North Division of the Alberta Minor Midget Hockey League with five points on a win and four ties.
The Golden Arrow Storm were competitive, but came away with no points after two at home against the St. Albert Sabres.
Saturday Jaxon Young had two and Kyler Watson a single and Vaugh Kaliel made 27 saves in a 6-3 loss while Sunday Reis Nyland and Zack Shantz had the goals and Nathan Crawley made 32 saves in a 4-2 loss.
GA is third in the Charger North Division of the Alberta Bantam Hockey League with 13 points on five wins and three ties after 12 games.
The Battle of the Peace was a GPAC vs. GPAC tilt on Saturday and in this one the Higson Dental Storm defeated the Dreger Racing Team Storm 5-2.
Nathan Sanregret had two and Bowen Grycan, Josh Stinson and Dale Horseman singles while Shannon Sexton made 29 Storms for Higson. Ryan St. Germaine and Hicham Saurer had the goals and Kegin Kelln and Karson Bradford combined to make 33 saves for DRT.
On Sunday Higson took on the St. Albert Blues and tied 4-4 with Josh Galla getting a pair and Austin Boyd and Grycan singles and Logan Sawatzky making 32 saves.
The same day Dreger travelled to the Whitecourt Wolverines where they fell 6-2. Zayn Knezevich had both goals.
Higson is in second in the Rural Black Division of the Edmonton Rural Bantam Hockey league with nine points while Dreger is fifth with four.
In Alberta Female Hockey League action as part of GPAC/PCFAC Hockey Day the Bonnett's Bantam Elite Storm and Grande Prairie Midget Elite Storm were in action.
Bradlee Fisher, Maggie-Kate Fitzpatrick, Karsyn Utz, Sarah Kjemhus, Molly Hamilton and Victoria Willey scored and Mackenzie Gould-Sharpe made 22 stops in a close 7-6 loss to the North Central Impact.
The Midget Elite Storm, on goals by Arilyn Toews, Charlieze Sallis, Jailyn Bablitz and Marissa Coulter, and 26 saves from Chantel Nault, doubled the Red Deer Sutter Fund Chiefs 4-2.