Midget AAA Storm Get Another Win
---
---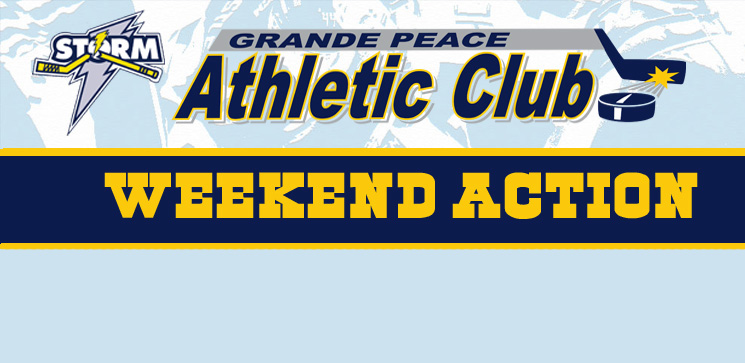 ---
The Grande Peace Athletic Club Ernie's Sports Experts Storm continue to impress atop the Alberta Midget Hockey League standings.
They sit in second place in the Dodge Division of the AMHL with four wins and a loss after six games to start the season.
The latest win came on Sunday in Airdrie where they downed the hometown Bisons 5-2. On Saturday they suffered their first loss of the season - 5-3 to the Calgary Royals in cowtown.
On Sunday, Cam Wiebe, Devin Aubin, Clay Brown, Sheldon Kwiatkowski and Ty Toews scored for ESE while McCoy Bidewell made 22 saves in the GP net. Saturday Codie Saunders had a pair and Kwiatkowski a single while Terris Lappenbush stopped 39 pucks.
Ernie's is two points back of the Davison leading St. Albert Raiders.
Peaceland Directional Drilling Storm of the Northern Alberta Midget AA Hockey League had a good news/bad news kind of weekend.
The good news came Saturday with a 7-4 win over the Vikings in Camrose. Denon Bamber had three goals and an assist in that game while Mason Kyllo had a pair and Spencer Lloyd and Taylor Buchberger singles. Owen Taylor made 21 saves for the win.
The bad news was Sunday when PDD got spanked 10-1 at the hands of MLAC in Edmonton. Alden Brown scored the goal and Taylor was in net.
PDD sits in second place in the Pembina North Division with nine points, four back of division-leading NEBC Flyers.
The GPAC player-of-the-weekend had to be Boston Pizza Storm netminder Connor Stojan. He made 56 saves en route to the shutout in a 4-0 win over the Spruce Grove Saints in Alberta Minor Midget AAA Hockey League play.
Olen Nordhagen had two goals and Brandan Wabick and Brody West singes in BP's first win of the season. BP is eighth in the North Davison with five points on a win, four losses and three ties.
Both the GPAC Dreger Racing Team Storm and Higson Dental Group Storm play in the Edmonton Rural Bantam AA Hockey League and both had a win and loss.
On Saturday, Dreger defeated the visiting Fort McMurray Barons 6-5. Hicham Sawer had three goals and Ryan St. Germaine, Luke Sheck and Ben Hilliar singles while Keagin Kelln made 54 saves.
On the same day Higson fell 5-2 to the Wainwright Polar Kings. Bowan Grycan and Jett Fogle had the goals and Shannon Sexton and Logan Sawatzky shared the netminding.
On Sunday the results were reversed with the visiting Strathmore Warriors downing Dreger 6-4 and Higson topping the Vikings 7-3 in Camrose.
Hilliar had two goals and Zayn Knezevich and Billy Barbarich singles in the Dreger loss while Josh Stinson, Nathan Sanregret and Fogle had two goals each and Dale Horseman a single in the Higson victory.
Higson sits in second in the Black Davison with six points and Dreger third with four.